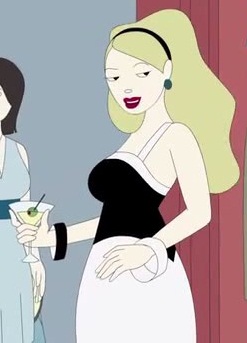 Donna is a professor at UCI.
In "Prom Face/Off", Donna is Frank Smith's date to a staff prom. She had her face ripped off when she got attacked by a hippie, (she sustains an injury that is never fully remedied).
Although initially reluctant to date Frank—admitting to only going with Frank so he will not fail Donna's cousin—Donna ends up enjoying the date until hearing that hippies are running amok. While being wheeled off to the hospital, Donna states her desire to be more than just friends with Frank, but Frank, unable to accept the blonde's faceless head, rejects the offer.
For Christmas, as seen in "Chinese New Year", she receives a mask.
She is friends with Frank and Baby Cakes on Facebook, as seen in "Dream Reamer".
Episode Appearances
Edit