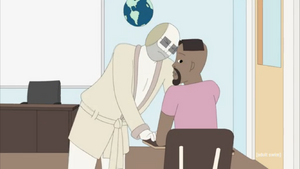 Hanz was a student at UCI.
Biography
Edit
He appears in Steve's class in "Secret Society" and is given the nickname Goatee by an intoxicated Steve.
In "Dream Reamer", he is given a Facebook friend request by Baby Cakes.
He cameos in "Frankensteve" to watch a wrestling tournament.
All students, Hanz included, fail their exams in "Chinese New Year" and take the chance to retake them. With Steve's help, they pass.
He and many others are killed in "Dean's List" when the eponymous game causes competition among the various departments in the campus.
Episode Appearances
Edit