For the monk, see Kim Li.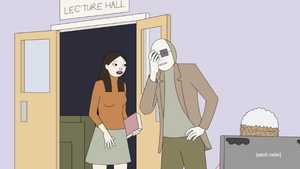 Kim was a student who began attending UCI in Season 2 and died in Season 3.
Biography
Edit
She first attended UCI in "The Perfect Lecture" alongside other incoming students for the new academic year.
In "Kenny Winker Rules", she briefly dated a gigantic bed bug that Pony fell in love with. Afterward, she briefly dated Trump's Kid in "Bi-Topping-Ality", but their relationship was ended by Steve, who assumed that Kim having a bruised eye was a sign of an abusive relationship.
In "Gummie World", she was revealed to have a sugar addiction and died after overdosing on sugar from an enormous gummy bear.
Kim despised lustful men, as witnessed in "Kenny Winker Rules" and "Bi-Topping-Ality".
Kim disliked music of Kenny Winker.
Kim was employed at Chilibee's.
Episode Appearances
Edit