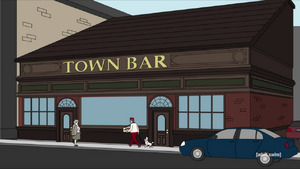 Town Bar is a bar in China, IL. Its bartender is Jetta, and the UCI staff members and students frequent here during the Second and Third Seasons.
In "Surfer God", the bar gains a surfer theme during God's visit.
The bar hosts open mic nights as shown in "Best Face Forward".
In "Magical Pet", Barb is seen as a bartender instead of the usual Jetta.
The bar makes no appearance in Season 1. For the most part, UCI staff gather in the teacher lounge during the First Season.
Episode Appearances
Edit