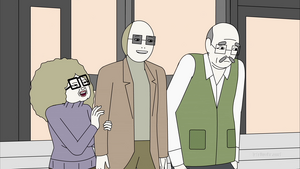 Ward and June Smith are the parents of Frank and Steve.
Biographies
Edit
In "Parent's Day", Ward has little testosterone and takes little, if any, charge, as Steve repeatedly dominates Ward. Steve briefly replaces his father as head of the household after Steve's suggestion, as the professor states the change will allow Ward and June to keep their house. Later, during a neighborhood fight, a beaker of testosterone flies through the air, dropping testosterone on Ward, who takes charge and reclaims his position as the head of the household.
Meanwhile, June, as she develops a sexual attraction to Steve, loses attraction to Ward. Regardless of Ward and Steve's efforts, June cannot easily overcome her attraction to Steve because of Ward's lacking testosterone, and the attraction strengthens as Ward continues to prove inferior to his son. Once the testosterone takes effect on Ward, June ends her attraction to her son.
Ward and June never visit Frank because of his being away from campus for most of the episode.
Both the Smith parents share the first names as the parents from Leave It to Beaver, a sitcom from the 1950s.